After visiting with family for a week, it was time to head home. Given the lengthy travel time in each direction, we only had a limited amount of time for the actual visit.
Having the van while visiting family was nice. Even though we had places to sleep inside actual houses, the van got used occasionally whenever one of us wanted to sleep in peace. Without popping the top, we still have a good sized bed to sleep on. The neighbors never knew anyone was sleeping in a van in the driveway.
After saying our goodbyes, we headed north again, towards the U.P. We still had no desire to drive through Indiana or Illinois. Plus, the U.P. is much more picturesque.
On the way north, we did hit some traffic, and it became quite heavy crossing the Mackinac Bridge. I suppose the desire to escape the cities during the pandemic, plus it being a Saturday in summer, means a lot of people were heading "Up North" in Michigan.
Once across the bridge, we were once again on Route 2, which would take us all the way home. As we headed west, along the north shore of Lake Michigan, the wind picked up, and clouds moved in. Not too far west of St. Ignace, we saw big waves on the lake, and decided to stop for a swim. The big waves, and steep shore caused by erosion and the retaining wall, resulted in a bit of an undertow. It was fun nonetheless, and we enjoyed the big waves for bit before getting back in the van and continuing west.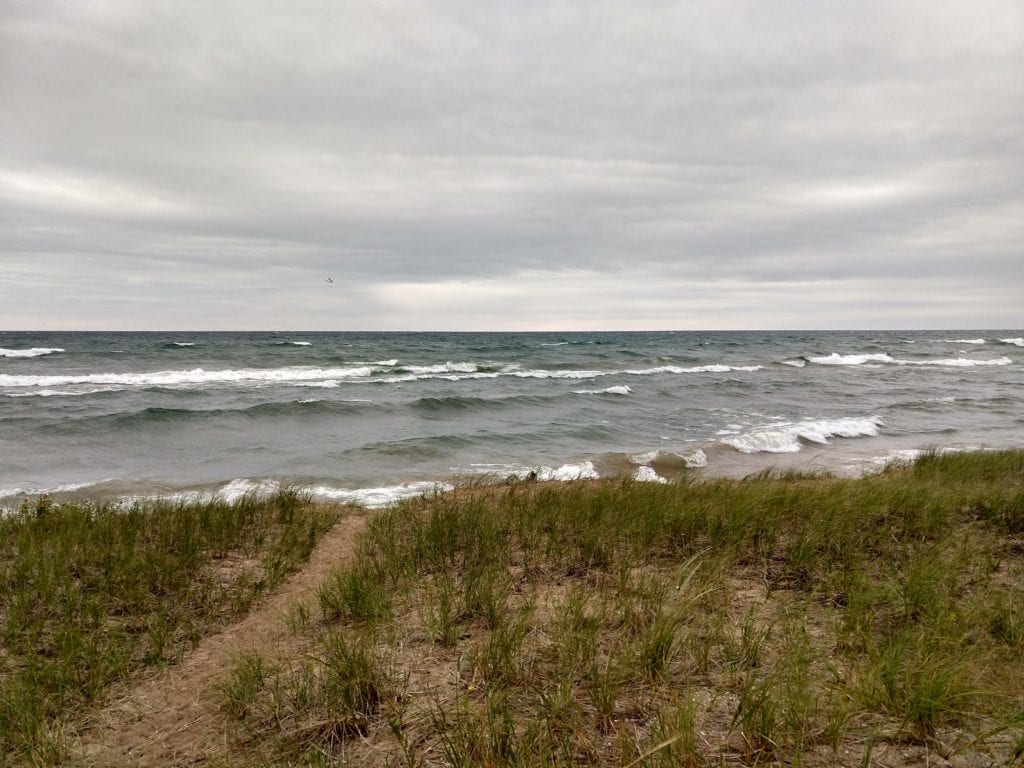 Around Blaney Park, we decided to head north and look for a place to camp, and maybe drive through Marquette, since we skipped it on the way down. We made our way up to M28 and the shores of Lake Superior, where the sun was shining, and the lake was smooth. We stopped for dinner along the road, and Alexander, again swam in both Lake Michigan and Lake Superior on the same day.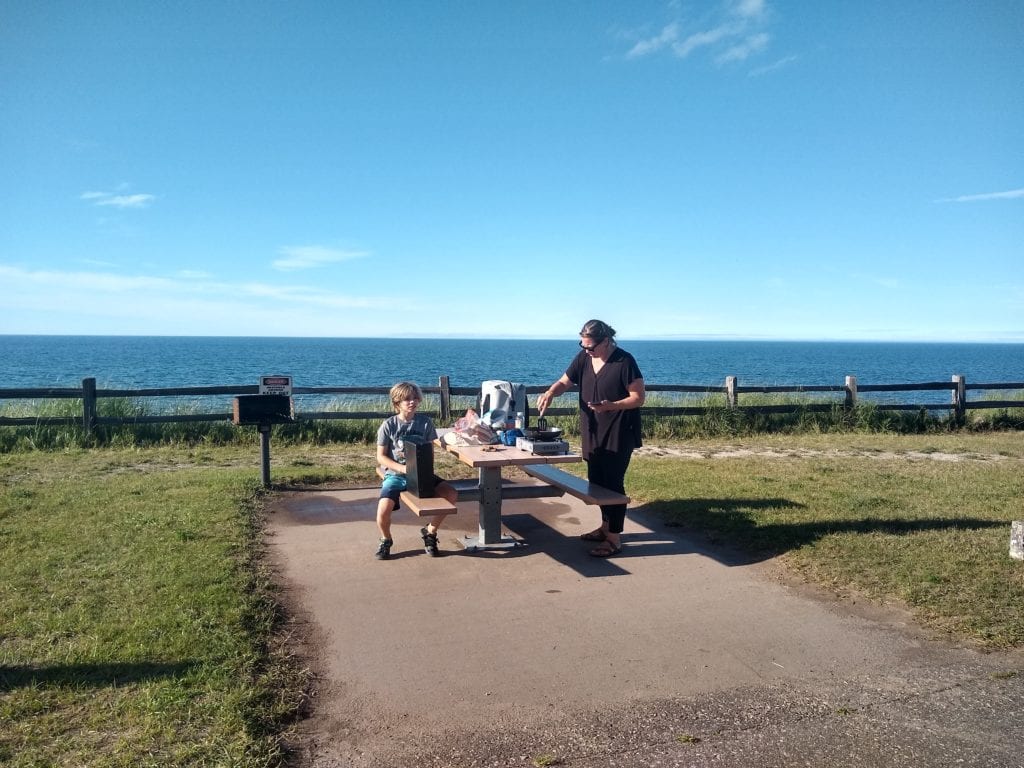 At the park, I spoke with a woman who was obviously camping, and asked if she had any recommendations. She basically told me, "good luck", as everywhere she had been to was full. She did make some suggestions of trailheads where we could probably get away with camping, even if it's not technically allowed. Upon hearing this, we decided to again skip Marquette, as it was possibly going to take some time finding a place to camp.
We figured, correctly, that we'd need to get away from Marquette, and Lake Superior in order to successfully find an open campsite. We ended up at Moose Rapids Campground on the Michigame River, northwest of Republic, Michigan. The campground is donation based. The suggested donation is $5/day, which seems like a pretty good deal. The camping near the river was taken, but we found a pretty big, pull-through spot, that would make for a quick exit in the morning. Like so much camping, east of the Rockies, there were a lot of mosquitoes. Fortunately, we weren't spending much time outside. We just needed a place to sleep. Once some of the campers had finished cutting enough wood to burn for a week, it was a quiet stay.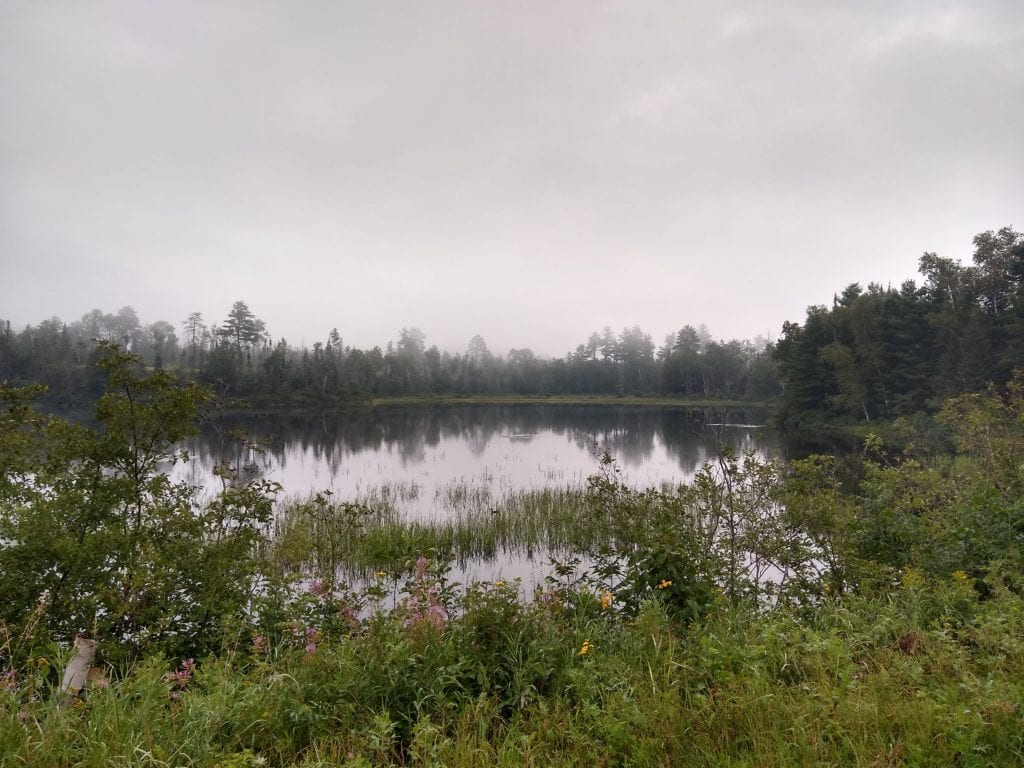 In the morning, we again skipped making breakfast, preferring to avoid the mosquitoes, and get driving. We stopped for breakfast, at the Tioga Creek Roadside Park. It has picnic tables, and a picturesque creek, with some rapids. It is close to the road, so it's fairly loud, but was a good spot to make breakfast, and chat with other travelers. We even met someone who used to live in Montana, not far from where we currently live. Traveling sometimes makes the world feel small.
After breakfast we discussed heading up the Keweenaw Peninsula to Copper Harbor. We made it as far north as Houghton before pulling the plug, once again, due to time. It was going to add several hours round-trip, and we were anxious to make some time.
Alexander was bugging us to go swimming again, and we found a great beach on our way south, as we passed through Ontonagon. The beach, just outside of downtown, was super sandy, the water was comfortable, and clear, and the weather was perfect.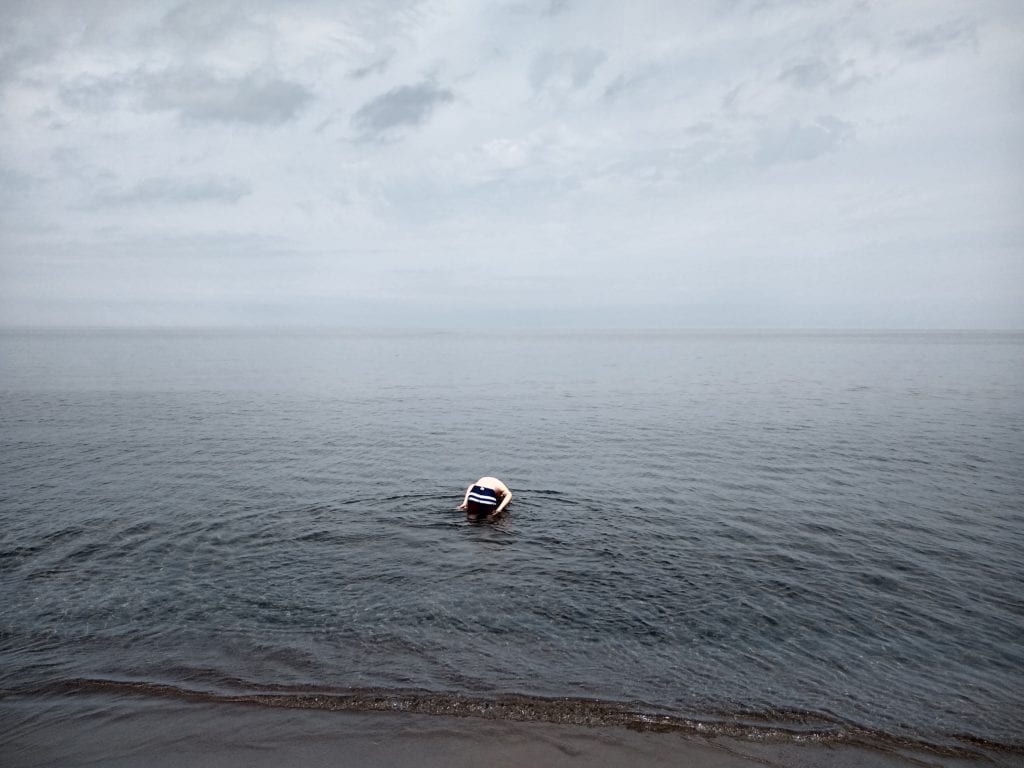 After our swim, we continued south, and decided to drive through Porcupine Mountains Wilderness State Park. We paid the entry fee, and decided to hike out to the Lake of the Clouds overlook. It was a gorgeous view, even on an overcast day. The park is 60,000 acres in size, and has 90 miles of trails. We wished we had more time to hike, but we had to keep moving on.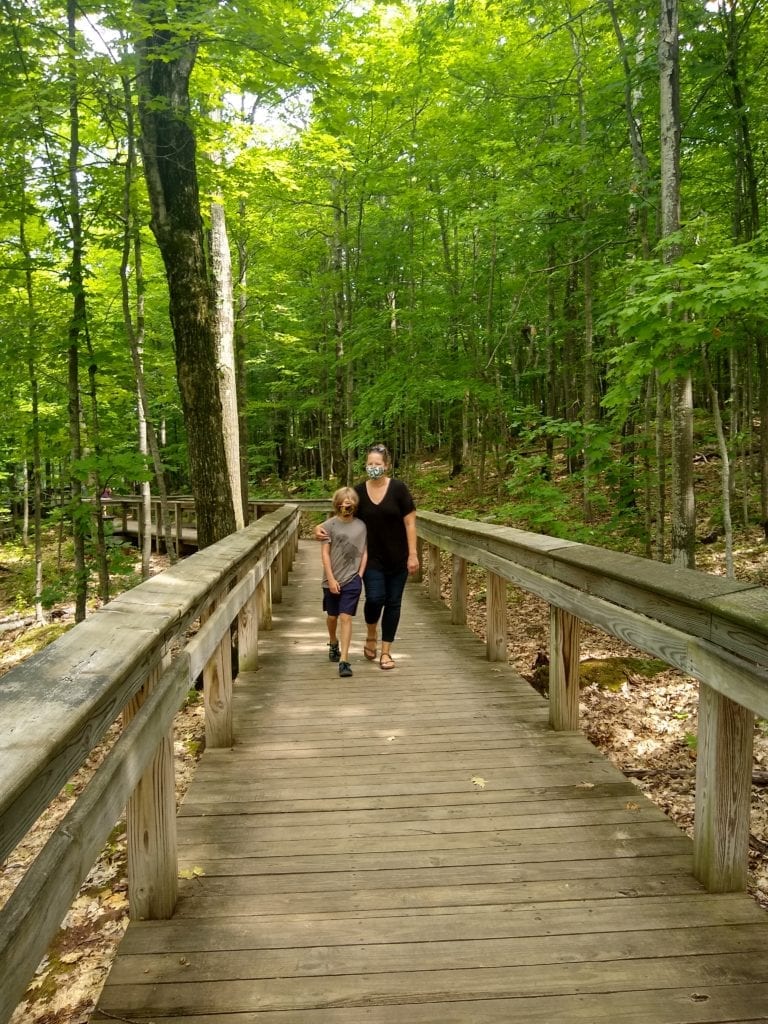 We drove through the park on our way back to Route 2, and then on to Duluth. It was around this time we began looking for places to camp. Planning ahead would make the camping portion of a trip easier, but would anything else more difficult. We couldn't drive further because we felt like it. We couldn't stop to swim, or visit a park unexpectedly. We prefer spontaneity in our travels. The downside is the stress of finding a place to camp. This particular day turned into one of those stressful times. We didn't know it at this point, as we were still several hours out from wherever we were going to camp.
Somewhere near Grand Rapids, Minnesota it started to rain. It rained quite hard, on and off for awhile. So much so, that, in fact, there were places we were afraid we wouldn't be able to make it through, even with pretty decent clearance on the van.
Near Mentor, Minnesota there appeared to be about a dozen campgrounds on the map. So, it seemed to be a logical place to check out. We usually look at photos, if we can, and we try to read some reviews as well. We found a few potential sites, and headed towards Union Lake, and Union Lake Sarah Campground and Farmers Union Lake Campground. They both sounded promising. Plus, there were other nearby options should they not work out.
It turned out that nothing in the area worked out. The two we had in mind seemed to be permanent vacation spots, not really open for visiting campers. Union Lake Sarah also seemed mostly flooded and run down.
We drove around the area looking for camping for about an hour, until sunset. At that point we had our Verizon WiFi hotspot running, and our Google Fi phones on T-Mobile and Sprint, desperate for a signal to find other camping options. One option was to head to Grand Forks, and hope the in town camping had space. But, once past Grand Forks the camping options drop considerably, so we hoped to find something closer, saving Grand Forks for a last ditch option.
Eventually we were able to get a signal, and found another promising option, called Old Crossing & Treaty County Wayside Park. Like several other parks that have worked out for us, this is a county park. It's in the middle of nowhere in farm country, on Red Lake River. The great thing about parks like this, is that typical tourists are looking for big sites to see, lakes to visit, or some nice picturesque town. This has none of those things. It's nice farm country, and on a river, but is otherwise unattractive to most travelers. In other words, it was perfect for us. It's free. It was quiet. Seemed clean and was pretty easy to get to. We pulled in, setup quickly in the dark, and went to bed.
In the morning, we got up, and quickly got back on our way, taking farm roads to East Grand Forks, where stopped at a park for breakfast. We also stopped for an iced coffee in town before hitting the road for a long day of driving. Back on Route 2 we drove across North Dakota, through fracking country, and into Montana. On our drive out, a couple of weeks earlier, we spotted the Bears Paw Mountains, and read a bit about Beaver Creek County Park. Apparently it's the largest county park in the country, and has quite a bit of camping. And, as usual, being far from the usual places tourists like to visit in Montana, it seemed like a good potential camping area.
It did, indeed, turn out to be a good choice. It's not too far from the highway, but it's far enough, that if there wasn't any camping, you'd waste a good hour, or so. It was again night when we arrived, so figuring out where the actual camp sites were was the tricky part. We ended up just picking a flat spot overlooking the reservoir. Since no one else was around, we figured it didn't matter all too much.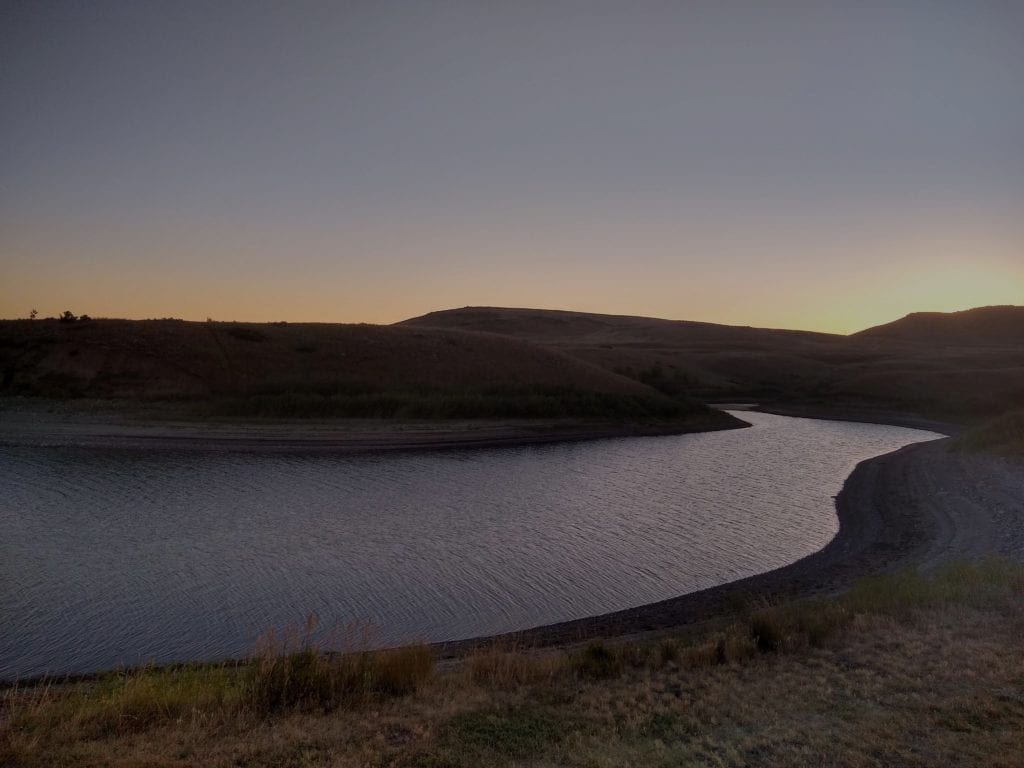 When we woke up in the morning, we had a nice spot for breakfast, with views of the water and the mountains. We were able to get back on the road early, though construction had begun on the road back to Route 2, and we were delayed, while waiting for a pilot truck. Eventually we were back on the highway and headed home. The last day of driving was scenic, but we were all just happy to be home again.
Distance: 1997 miles
Time: 3 1/2 days. About 35 hours driving.
Vanlife reality: Driving around in search of camping when you're tired, and your kid is cranky. Mosquitoes.