Our van is for sale! We love it, but we're done with the road for awhile. You can still read more about it here, or contact us to buy it.
Our van is a 2017 Ram Promaster 1500 cargo van. We purchased it in May of 2018, and although we began the conversion immediately, we did the bulk of the conversion in the spring of 2019.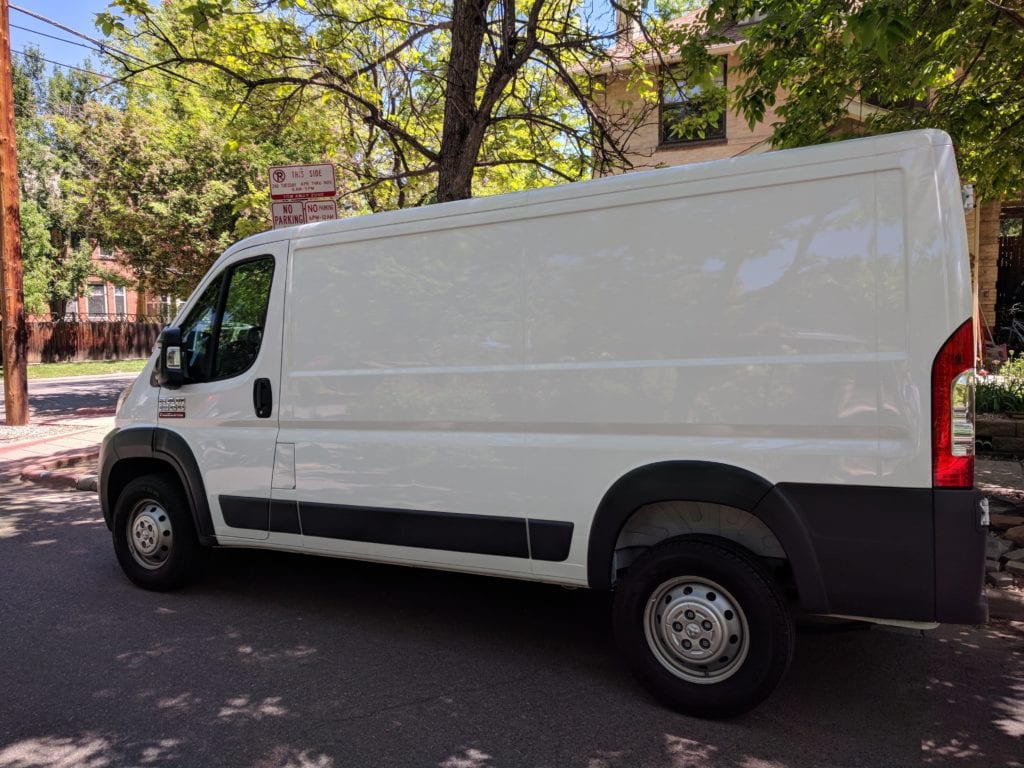 The van, being a cargo van, had only the two front seats. Seeing as we had three in our family, the first order of business was to have a safe seat installed in the back for our son. We also had two side t-vent windows installed, with screens. The seat and windows were installed in the summer of 2018.
The van also had no interior finishes behind the two front seats. It was bare metal, and loud to drive. So we added some sound deadening material to the interior of the van.
For that winter we drove the van with the additional seat, side windows, and sound deadening. We also camped in it several times over the winter and early spring to get an idea of what we wanted before spending the money and time on the conversion.
During that time we came up with a plan to sell our house, and leave town by June 1st. A tight timeline that required a third party conversion. We had already decided that with three of us we wanted some separation between sleeping areas. We considered a rooftop tent, but that would require exiting the van to get into the tent. We ultimately decided on a pop top. The previous spring we had rented a Promaster with a pop top from Rocky Mountain Campervans. We liked it, and ultimately decided to have one installed on our Promaster. We chose Colorado Camper Van, one of two that installs pop tops on Ram Promasters. Fortunately, they are only a little over an hour from where we lived in Denver, Colorado.
Also, as this was our one and only vehicle, we eventually had two back seats installed. What we settled on was the following:
Motorized pop top
Lonseal flooring
Insulation and interior fabric wall panels
Two removable rear passenger captain seats
Two side t-vent windows with screens
A high convertible platform bed with two large storage bins underneath
LED lighting in both the main portion of the van and the pop top
Roof rails for a rack and/or solar panels
We decided not to install a kitchen, heater, or solar panels due to time and cost. We also weren't sure what we wanted to do with a kitchen. We had rented vans with a kitchen behind the driver's seat, and one that slid out of the back. Both were nice. And both had pros and cons.
We figured we would start with our regular camp stoves and see what we thought as we camped over the summer. It turns out that we'd rather have the space than a built-in kitchen. Perhaps if we did more winter camping we'd have decided to install an interior kitchen, but for the other three seasons, I would really rather not cook in the van.
We also found that we didn't need much solar. We have a portable panel, and combined with the power the van generates while driving, we generally had our power needs covered. We also camped every once in awhile at campgrounds with power, and simply ran an extension cord to the van. If we spent less time driving, and more time in the middle of nowhere, solar would be great.
We camped a few times in temperatures of around 15 degrees Fahrenheit, and did just fine without the additional heater. Like a built in kitchen, lots of winter camping would probably make a heater a benefit. But, at the price they run, it didn't seem worth it for three season camping.
Another item we never purchased was a refrigerator. This was initially due to time constraints. By the time we thought to get one, we needed to leave town. A refrigerator is one item that I may purchase if we were to do this again. A good cooler with ice blocks works really well, doesn't require power, or cost too much. The down side to a cooler is that you can't find block ice everywhere, and crushed ice melts fast and soaks everything you put in the cooler.
Fortunately, solar power, a heater, kitchen, and refrigerator are all items that can be installed at a later time if we decide we need them. So far, we don't feel we need them, but we always have the option to add them.
Finally, we also did not do anything built in for a shower or toilet. For a van of this size, it would take up far too much space. We brought an emergency toilet that saw very little use, and didn't take up much space.