We started the day with pancakes made by our friends, followed by the neighborhood Fourth of July parade. It's similar to what my neighborhood had as a kid. A local firetruck shows up. All the local kids get behind it and follow it around the neighborhood, on bikes, foot, scooter, or skateboard. It's a lot of fun for the kids, though Alexander had no desire to participate.
After the parade, we said our goodbyes, and we headed to REI in downtown Portland. Shelby had new sunglasses waiting to replace some broken ones, and we needed more BioLite BioFuel Pellets, for our BioLite CampStove.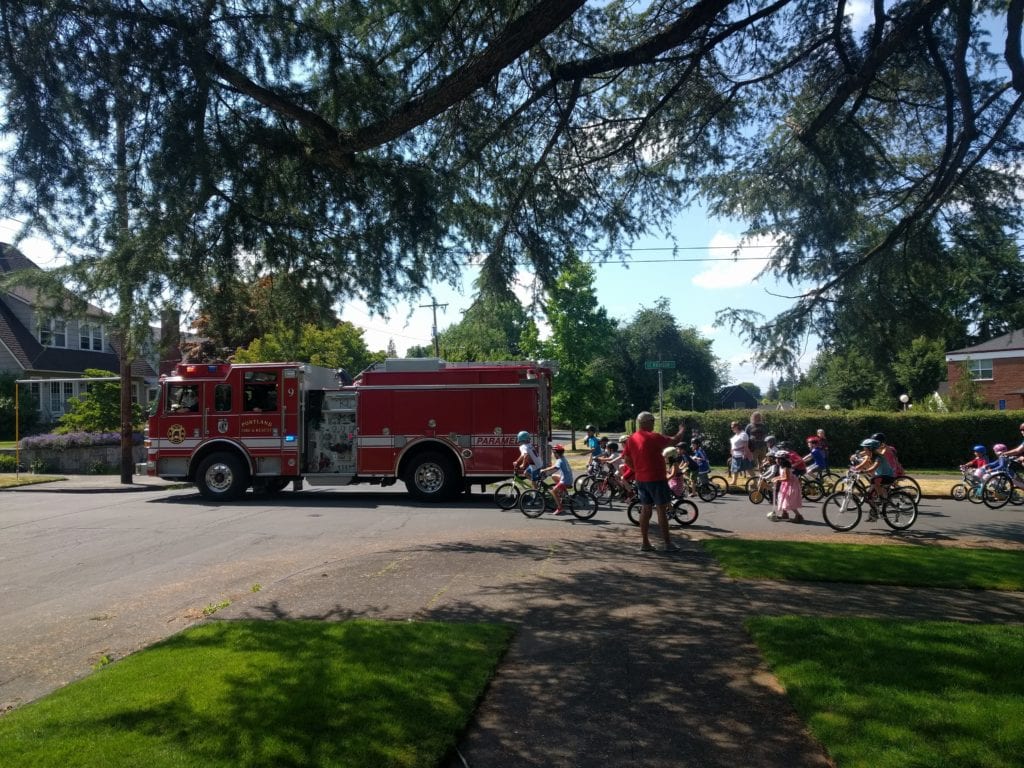 Next it was time to find a skatepark. We decided to first checkout the Burnside Skatepark. Alexander found the scene to be a little intimidating (so did I), and we just kept on going. Our destination for the night was Hood River, so we headed to the Glenhaven Skatepark, which was in the right direction.
The Glenhaven Skatepark turned out to be a good choice. It had a nice variety of features, and a range of skateboarder skills on display. Whereas Burnside was intimidating, this was not at all. There were good skaters, but there were also skaters on our level. After I suggested that Alexander try dropping in on a fairly small wall, the whole thing almost came to an end. Alexander ran around screaming that he didn't have to drop in if he didn't want to. Eventually I convinced him by standing below the wall, and he could grab my hand as he dropped in. It made him commit, and worked great. In about 30 minutes he was all smiles and dropping into a fairly good sized bowl. I on the other hand was not dropping in. I'm way to scared. Cement hurts when you fall on it.
For the night, we decided on McMenamins Edgefield. We had been talking about staying at a McMenamins establishment on the west coast portion of the trip, and Edgefield was one we'd always wanted to try. The first time we went to Seattle we at a, now defunct, McMenamins restaurant called Dad Watsons. Ever since, we've been fans of McMenamins. In Portland there were several McMenamins, with the Kennedy School being one of the most unique. At the Kennedy School you can spend the night in an elementary school classroom, play basketball in the gym, hang out in a giant soaking pool in a courtyard, visit the several onsite bars, eat at the restaurant, or watch a movie in the movie theater. when we lived in Portland, we visited the Kennedy School for dinner fairly regularly, but never stayed the night. We had the opportunity to stay at the Kennedy School in visits to the Portland area after we'd moved away years ago.
The Edgefield location features a lodge, a par 3 golf course, and a spa with another large soaking pool. They also have a variety of events on the premises, and on this evening there was a free concert, which we attended. We had hot dogs and brats, and some McMenamins beer while we watched. There was also a free showing of Jaws on the outdoor movie screen. We didn't watch it, as Alexander thought it sounded scary. I thought that was a good call, and we went to soak in the pool instead.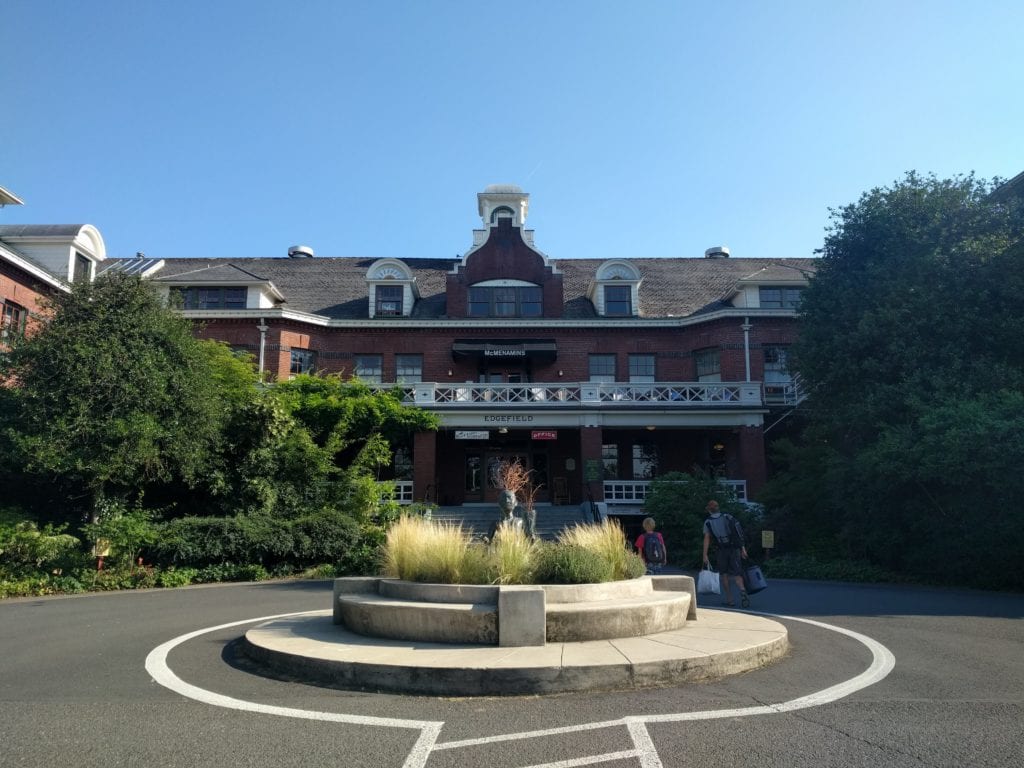 Distance: 22 miles
Time: 1 hour
Vanlife reality: Not much. I guess we didn't stay in our van. The Edgefield is pretty nice, though it wasn't cheap.