Despite the weather, our timing for visiting Glacier National Park was good. It turned out it was the first day the Going to the Sun Road was open. It rained all day, which was a drag, but did result in some dramatic scenery. Much of the time we couldn't see anything, but occasionally the mountains would appear in breaks in the clouds. All of the waterfalls were also pretty impressive, presumably due to all of the rain.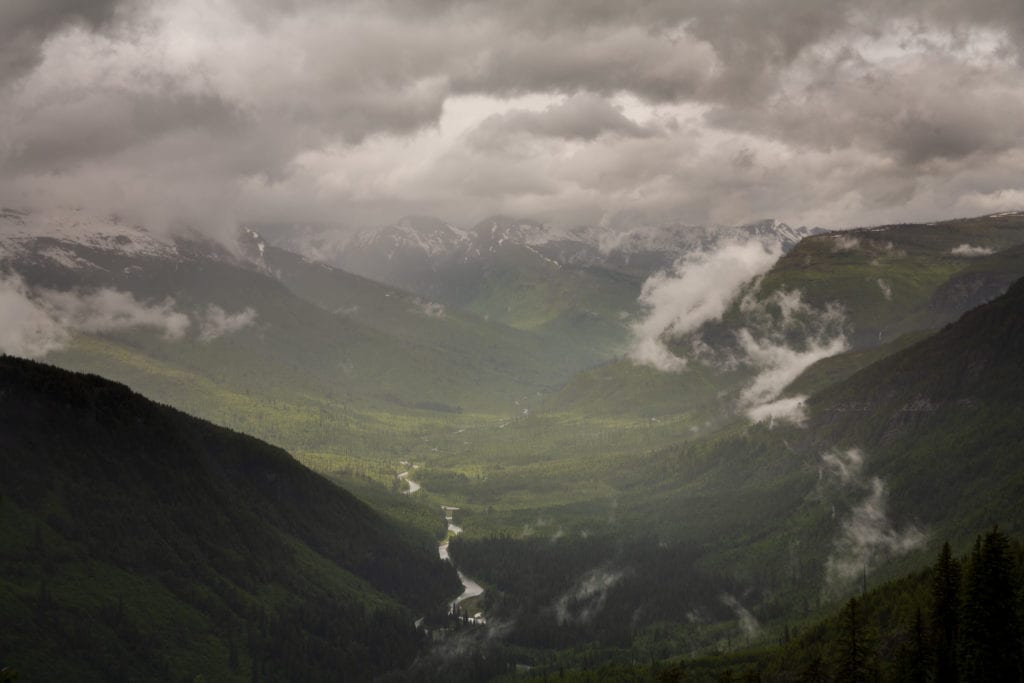 We did not drive all the way to East Glacier, as we were really taking our time, and still wanted to get over to see Whitefish today. I wasn't really as interested in Whitefish as Shelby was, but it I still wanted to see it. We were going to need something to eat, and we would need to get back up to glacier again to get to our campsite. We stopped at Logan Pass, Alexander got his Junior Ranger badge, and then we hiked around in the snow. There were some skiers and sledders enjoying the snow in June. We then headed down to the Jackson Glacier viewpoint, and viewed the glacier in the pouring rain. After a few minutes staring at a glacier that will likely not exist at some point in my lifetime, we jumped back in the van and headed back the way we came.
Along the way, the clouds moved, the rain stopped and started, and occasionally, we saw some blue sky or sunlight. We stopped frequently for photos as the ever changing landscape was spectacular. I suppose this the reason around 3 million people visit Glacier every year. Even in this pretty miserable weather, the traffic was heavy, and there was at least one place we couldn't even get to. Avalanche Creek was so crowded, and the parking lot was overflowing both times we drove past, that we decided to skip it. It's supposed to be really nice, but we'll have to come back another time to see it.
After winding our way down in heavy rain, and heavy traffic, we made our way past the campground, through Columbia Falls, and over to Whitefish, Montana.
In Whitefish, we had dinner at Second Street Pizza. We thought the pizza was pretty good, and they'll pretty much put whatever you want on a slice. After dinner we walked to Sweet Peaks for some ice cream. Alexander had his first milkshake. Shelby and I wondered how it was possible for him to go almost nine years without trying a milkshake. We felt a little guilty about it. He thought it was amazing for five minutes, and then handed the milkshake to me, and said he didn't feel all that great. So, it's possible it was both his first milkshake, and his last.
After finishing up desert it was time to head back to the Apgar Campground in Glacier for another night of rain.
Distance: 135 miles
Time: All day
Vanlife reality: So much rain. Everyday it rains.