So, it turned out that the one train at 8pm was not an isolated occurrence, and in fact, the trains ran for about 3 hours, in the middle of the night. From, approximately, 2am until 5am, the trains came by every 15 minutes, or so. The trains didn't blow horns, but the track curves near to campground, and the brakes and wheels squeal the entire time the train is passing. Even with earplugs, I couldn't get much sleep. I spent much of the night reading, and starting to fall back asleep, only to be awoken by the next train. Oddly, the trains stopped early in the morning, and there wasn't another before we left in mid-morning. Do train engineers work all night? Are there really that many train engineers in this section of Montana at any one point of time? It seemed insane to me, but then I spent the night listening to 21 passing trains. Yes, I counted them.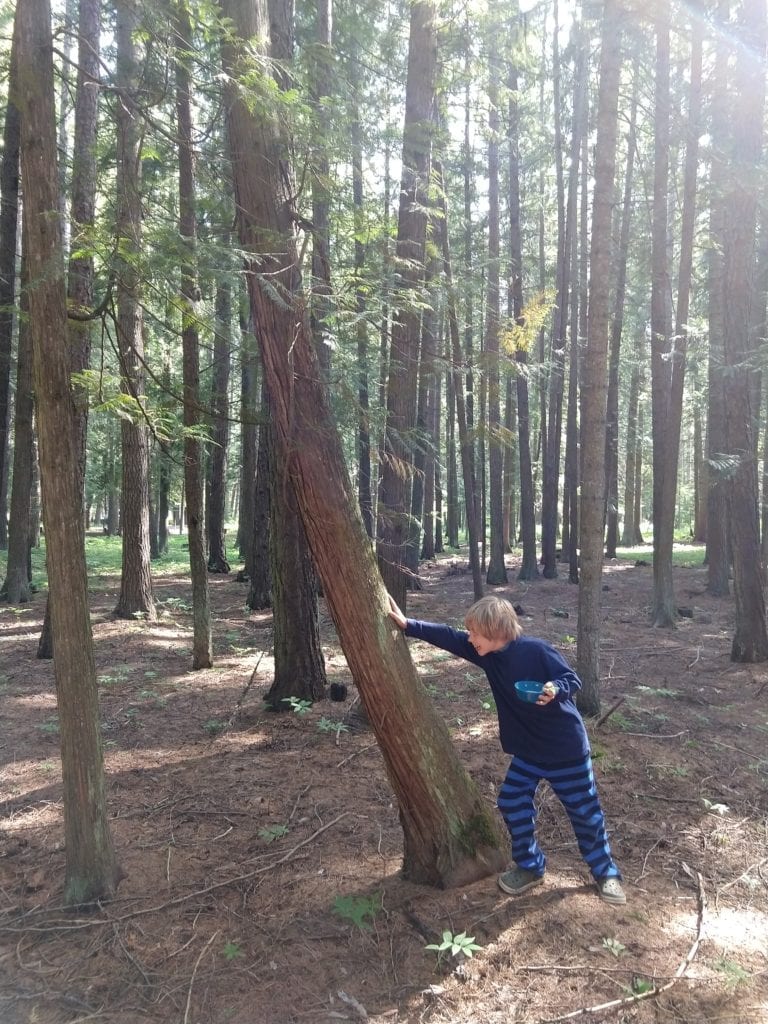 Fortunately, as I've mentioned before, we didn't plan much of our trip. We didn't really have a place we had to be, only places we wanted to visit. We took off, and headed for Idaho. We made it Sandpoint, Idaho around lunchtime, and stopped at a pretty nice little coffee shop called, Evans Brothers. It's in an old building, in a part of town in which it appears that most of the buildings are old, repurposed, industrial buildings, which is the kind of thing we're suckers for.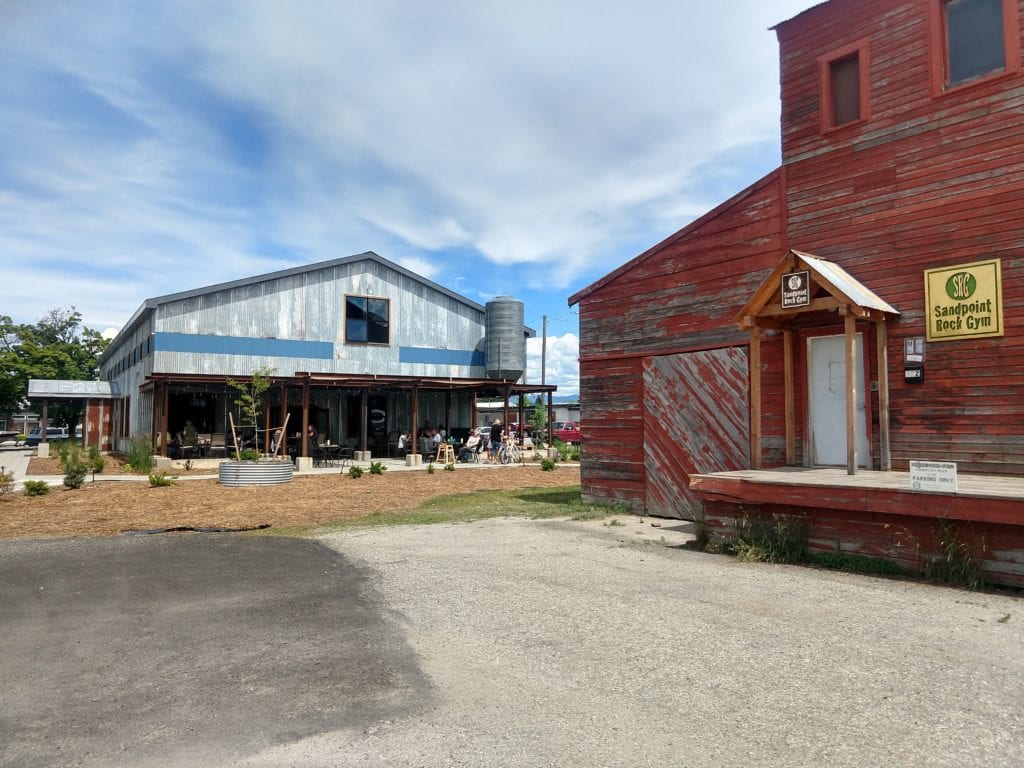 As a side note, for anyone who may own a coffee shop or cafe, or be interested in opening one, when we are traveling, and have to make a decision of where to stop and get food or coffee, we only have so much information to go off of. If your business doesn't look good online, you don't have a website, or the photos look bad, it's unlikely visitors (us) are going to try it out. Reviews are important, but I know from experience that what some people think is a great coffee shop doesn't line up with my expectations. At this point in our trip, our success in picking out good coffee, by looking at photos online, while traveling, has been pretty high. Maybe the other shops had good coffee too, but we chose the ones that looked like we expected a good coffee shop to look like, and haven't been disappointed.
Anyway, afterwards we headed to Sandpoint City Beach. We had lunch, threw the baseball around, and then went for a swim and played Frisbee. Sandpoint seemed pretty nice. It's located on Lake Pend Oreille and is not too far from Schwitzer Mountain, Idahos largest ski area. This is another place I'd like to spend more time. We definitely didn't spend enough time here, as we headed to Coeur d'Alene, hoping to get there in time to see the town, and find a place to camp before dark.
The trip to Coeur d'Alene was pretty quick, and we were able go to a coffee shop to check email, go to the skatepark, a grocery store, and find a place to camp, all before dark.
The coffee shop wasn't great. We didn't have a lot of options, so we chose one downtown with WiFi. If did the job, but I probably wouldn't recommend it. The skatepark, on the other hand, was pretty awesome. It's definitely near the top of the list at this point in our trip. Alexander and I both had some breakthroughs at the park, and came away pretty happy. I didn't hurt myself, and Alexander learned some new things, and of course, made some friends.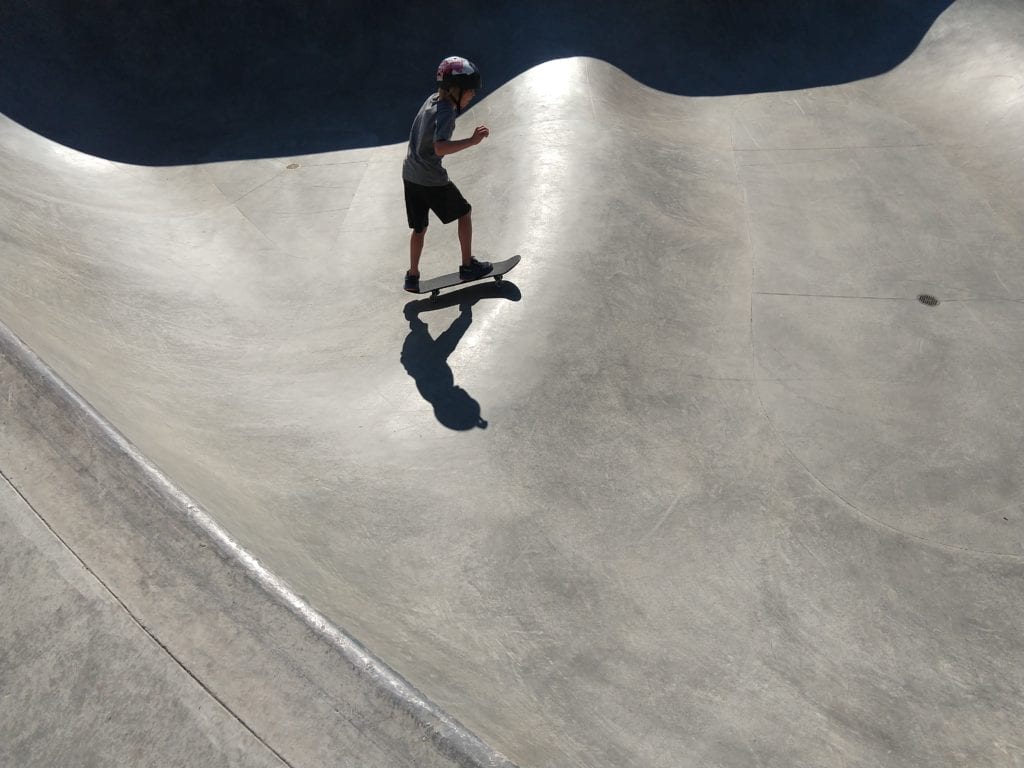 After a couple of hours at the skatepark, we called Camp Coeur d'Alene, which is kind of like a KOA, but is independent, as far as I know. They had one spot left for a van, so we headed over to the eastern side of Lake Coeur d'Alene and checked in. It was pretty nice, with a pool, an outdoor camp kitchen, and showers and bathrooms. Our site was almost to the top of a steep drive, which worked out well, as everyone seemed to burn wood, and the area below looked to be enveloped in a thick cloud of smoke. Unfortunately, this a fact of camping. Most people find a wood fire to be an integral part of camping. Never mind, it's stinky, burns holes in things, and is terrible for you to breath. Anyway, I don't particularly like them. So, I was glad to be up high (wood smoke is heavy, and tends to stay closer to the ground).
We were able to make dinner without being eaten alive by mosquitoes, though they were around, and we did get bit. We eventually headed into the van to escape them, do some reading, and go to bed. Early bedtimes have been a part of our trip. When you can't be outside due to mosquitoes, or rain, what else are you going to do? We read a bit, and go to bed. Between all the time on the road, and time in the van before bed, we've read a lot. Mostly, we read Alexander's books out loud. We all take turns, but it's mostly me. Fortunately, Alexander's books are pretty good.
Distance: 118 miles
Time: 3.5 hours drive time
Vanlife reality: Mosquitoes, a bit of rain, campfire smoke, train noise.