We took advantage of the showers, and the camp kitchen, before heading back to Coeur d'Alene for more time at the skatepark, and burgers at Paul Bunyan. We really liked Paul Bunyan, and will definitely eat there again if we come through town again. After lunch we headed to Spokane, Washington.
Spokane was a city we'd always been interested in visiting, and in all of our trips across the country, we'd never seen it. The first thing we did was find a coffee shop with WiFi. We ended up at Atticus Coffee, right downtown near the river. It's coffee shop, book shop, gift shop combo place. It had a nice atmosphere, good WiFi, and big tables. The pastry I had was good too. After an hour, or so of work and emails, we split up. Shelby and Alexander went to the toy store, and I went out to Riverfront Park. It seems like a pretty nice park with a whole host of activities, including the river, bike and pedestrian paths, and an ice skating "ribbon" in the winter.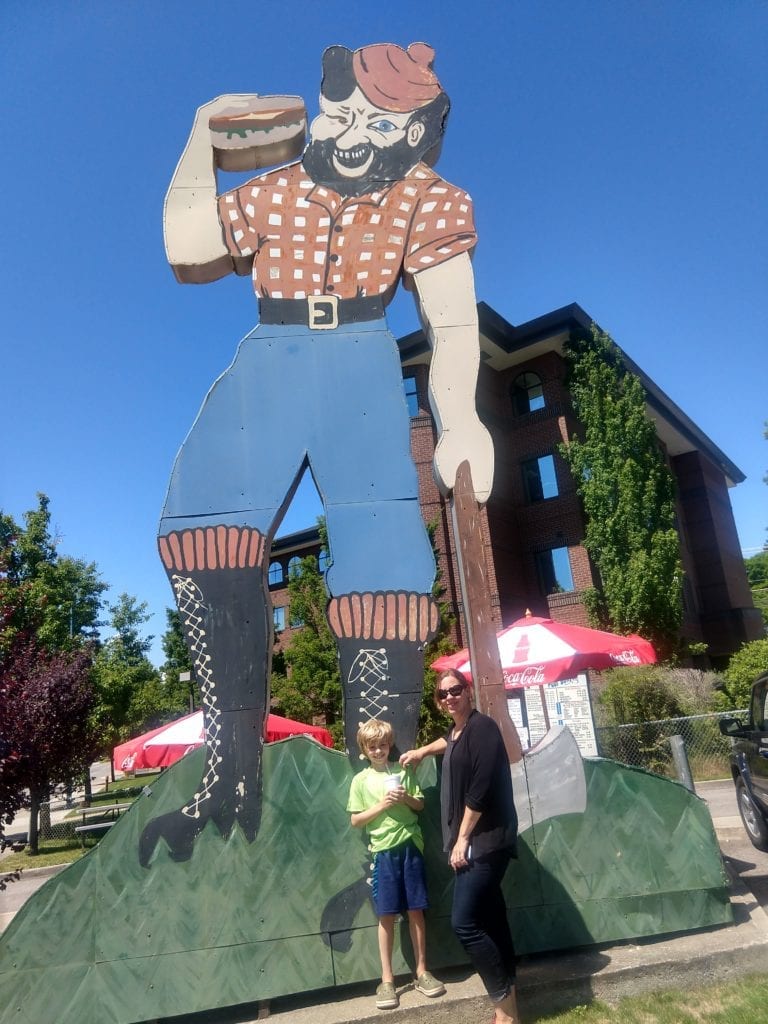 From there we headed to Natural Grocers, as always, and the skatepark, as always. The Joe Albi Skatepark, the Dwight Merkel Sports Complex is pretty big, with some fun features. There's another park in town, but we couldn't check them both out, and the Hillyard Skatepark sounded a bit more aggressive and was further from Natural Grocers. We didn't get much time in at the skatepark before the rain started. It was off and on for a bit, so we kept skating. We may have pushed it a bit, as I went down hard on the slick cement. At that point we decided we'd better go find a place to camp.
We headed northwest from the skatepark, along the Spokane River, looking for a good place to camp. We kept going on the winding road until we got to the Lake Spokane Campground. We'd expected it to be busy, and were a bit anxious as we pulled up. It turns out it was unnecessary, as there was just one campsite occupied when we arrived. We ended up with a nice spot overlooking the Spokane River, that had a covered picnic area, perfect for another wet evening. The poor weather did lead to a fairly nice sunset, and our location on the river was a nice spot to take it in.
Distance: 78 miles
Time: Approximately 2.5 hours driving.
Vanlife reality: Rain