After our night at the Missoula KOA, where we were awoken early by trash pickup, we headed into town. I know the folks at the Missoula KOA were pretty proud of the establishment, we were a little disappointed. A highlight was a couple from Minnesota, playing some bluegrass at their campsite in the morning. Alexander and I went over to check it out. It turns out, they're a young couple on a road trip. They're not an established act but sounded good. And, after a bit of chatting, it turned out they were fans of one of our favorite Colorado bands, The Haunted Windchimes. They even played a cover of Out With the Crow for us, which was one of they're favorite songs. We're huge fans of The Haunted Windchimes, and anything else involving Mike Clark, so this was a great way to start the day.
Next, of course, we needed to find a coffee shop with some WiFi. After some internet searches for a satisfactorily hipster coffee shop, we came up with Clyde Coffee, and it did not disappoint. They had good coffee, a good location, good people, good food, and good WiFi. It's definitely worth checking out. It's also just a couple of doors down from Board of Missoula, an awesome skateboard shop.
After finishing up our digital obligations, we headed to the Missoula Skatepark. Missoula's skatepark is pretty awesome, and besides a great place to skate, we met some pretty cool people, and Alexander ended up skating with a Parks and Rec group of skateboarders. It was a fun afternoon. After leaving the skatepark, we decided it was probably time to get Alexander an actual park board, as he (and I) had been skating in the parks with a cruiser board. He did okay, but the cruiser is not really meant for the parks. So, we went back to Board of Missoula and picked out a new setup.
We also grabbed some slices for dinner at Bridge Pizza. Being fans of New York style pizza, this hit the spot. Alexander brought his skateboard in, and kept it with him while eating. He was pretty excited about his new board. Dinner was followed by ice cream at Big Dipper, across the street.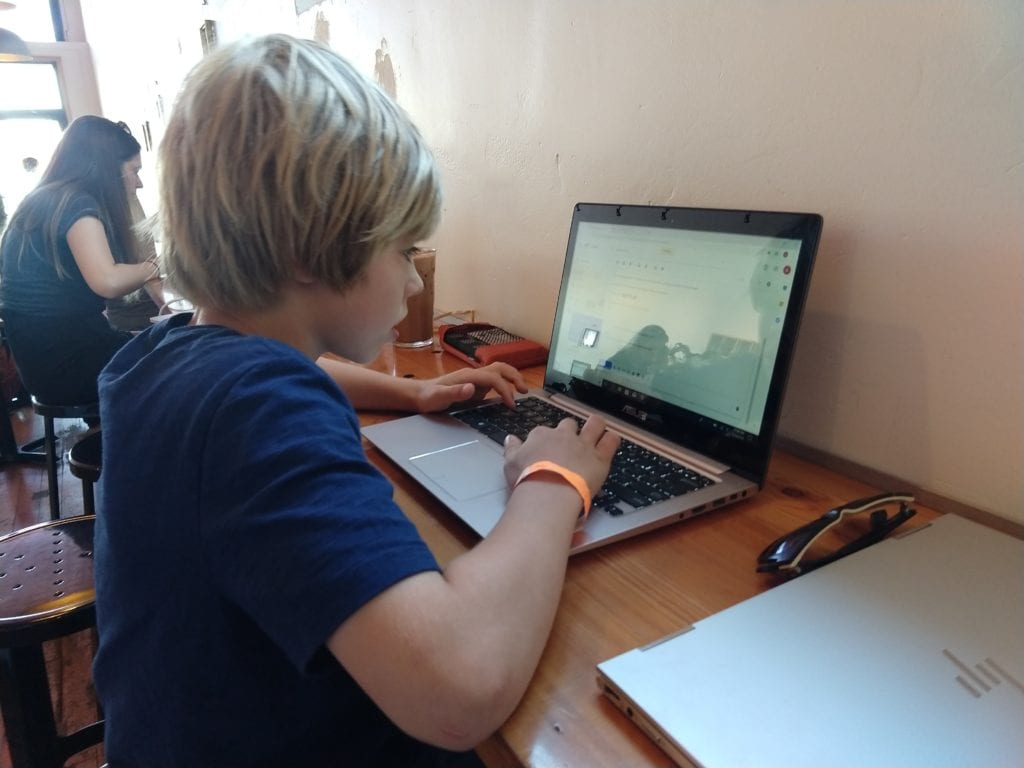 It was another day of scheduling our activities around the weather, but the sun came out, and we took advantage of it. Missioula was pretty cool. It's a decent sized city, in a pretty nice location. We stopped by the Trail Head outdoor shop for some camping recommendations. After some great advice, we picked up a guide to camping in Montana, and head out to Lolo, and down Lolo Creek Road in search of campgrounds. We ended up at Lolo Creek Campground, which was really nice, but had an insane amount of aggressive mosquitoes. We quickly made dinner, and Shelby retreated to the van while Alexander and I practiced ollies. By the end of the evening Alexander had figured out how to at least do a small ollie. I still couldn't do anything.
Eventually, the mosquitoes got so bad, even with regular insect repellent on, that we also escaped to the van. Soon after it started to rain. The rain lasted all night. We were getting pretty sick of rain at this point.
Distance: 35 miles
Time: Less than an hour of travel time
Vanlife reality: Mosquitoes can ruin an otherwise wonderful campsite. More rain.