Another year, another…well, the same pandemic. It's nice to have alternatives to flying, particularly during a pandemic. And, here in northwest Montana, it's especially nice, as the airport is a total cluster. The area is having a banner year, in terms of tourism. Of course that means it's a shit show for the locals. There are one, sometimes two hour waits for the worst restaurants in town. Gridlock traffic all over town, no parking, and people getting angry, were just some of the things we all experienced. Instagram accounts popped up documenting terrible behavior, worse parking, and lots of dumb questions from people who appear to not even know what state they are visiting.
We also experienced hot summer, unlike any prior, with 30 days over 90 degrees, as opposed to the typical 8 days over 90. Then there was the wildfire season, making going outside a dangerous activity, due to the heavy smoke. Burning eyes, and scratchy throats are just the physical symptoms I noticed, never mind the link to lung disease, heart disease, and even Alzheimer's and dementia. Also, Whitefish Lake was getting kind of warm and gross. There were so many people, and the relentlessly hot temperatures made the water less and less refreshing. Needless to say, we were looking forward to our summer road trip. And thankfully, we still had the van.
The plan, like last year, was to drive the Hi-Line through Montana, and continue along U.S. Route 2 all the way to the Mackinac Bridge in Michigan. We planned to take 2 1/2 days to get to Michigan. Then we'd spend a few days in the Upper Peninsula, before heading south, over the bridge into the Lower Peninsula. The stress is always wondering whether or not we'll have a place to camp at night. For this trip we did a little bit of planning ahead, and booked three nights at the Hancock Recreation Area Campground. Houghton and Hancock, are midway up the Keweenaw Peninsula, in Michigan's U.P. Yes, it's a peninsula on a peninsula. We were hoping for cool temperatures and a break from the smoke. It turns out they had bad air quality too, due to fires in Canada. Thanks Global Warming!
Our plan for camping along the way was to wing it. We were leaving on a Friday afternoon, and thought we had a good chance at finding a place to camp at Beaver Creek County Park, where we'd camped last year on our way back from Michigan. It's not a big Montana destination, so it's generally not full. We did get a good spot, and despite the terrible air quality, and unexpected noise from other campers and their dog, managed to get decent sleep. Our new front window screens, hand made by Shelby, kept out the bugs, and let in cool night air. We decided we should have made some of these a long time ago.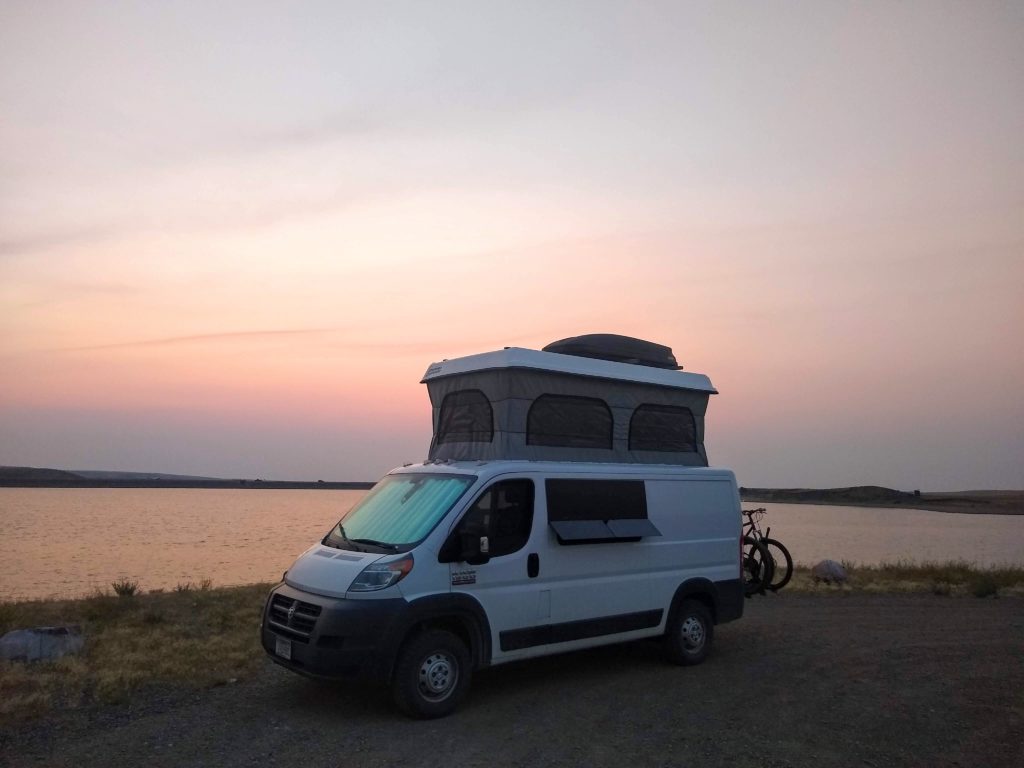 After a quick breakfast, on our new, collapsible table, we hit the road, stopping for coffee in Havre, and hightailing it for North Dakota. During the drive, Shelby did some searches for camping that might not be full, and if possible, with amenities, such as showers. Her efforts came up with a shortlist, and we settled on Turtle River State Park. It had about four or five campgrounds available, so we booked one online. It also had highly rated (online) showers, and a variety of trails. It sounded pretty good. It turned out to be a nice place, but our campsite was located right next to the showers and bathrooms, and they are open to all paying visitors, campers or not. And they all seemed to use them until midnight. I would book ahead next time, and not stay near the showers. Also, some campers were obnoxious teens, who found it fun to yell to each other throughout the area until around midnight as well. On the plus side, we did walk some of the trails, and used the showers, which were pretty nice.
It wasn't all that peaceful, but we got enough sleep to continue on, with the intention of making it all the way to Michigan before night. We thought we maybe we could camp near the Porcupine Mountains, in the western U.P. It looked to be about a 9 hour drive. However, due to our stops along the way, including The Urban Stampede coffee shop in Grand Forks, and Harmony Foods, lunch at Paul Bunyan Park, and the skate park in Bemidji, we began to wonder if we'd make it. The Urban Stampede, by the way was really good, even with a bit of condescension from the barista.
Like the day before, Shelby did the campground research, and found that there was one place, with one site, that would take same-day reservations near the Porcupine Mountains. Considering our likely late arrival, we didn't want to risk not finding something in the first-come, first-serve campgrounds. It turned out to be an awesome site right inside the Porcupine Mountains Wilderness State Park, near Lake Superior. It also came with a fly swatter. That seemed like a bad sign. It was, and in the morning we decided against making breakfast at the campsite, and got the heck out of there. On the plus side, it was a very quiet campsite, and we got great sleep.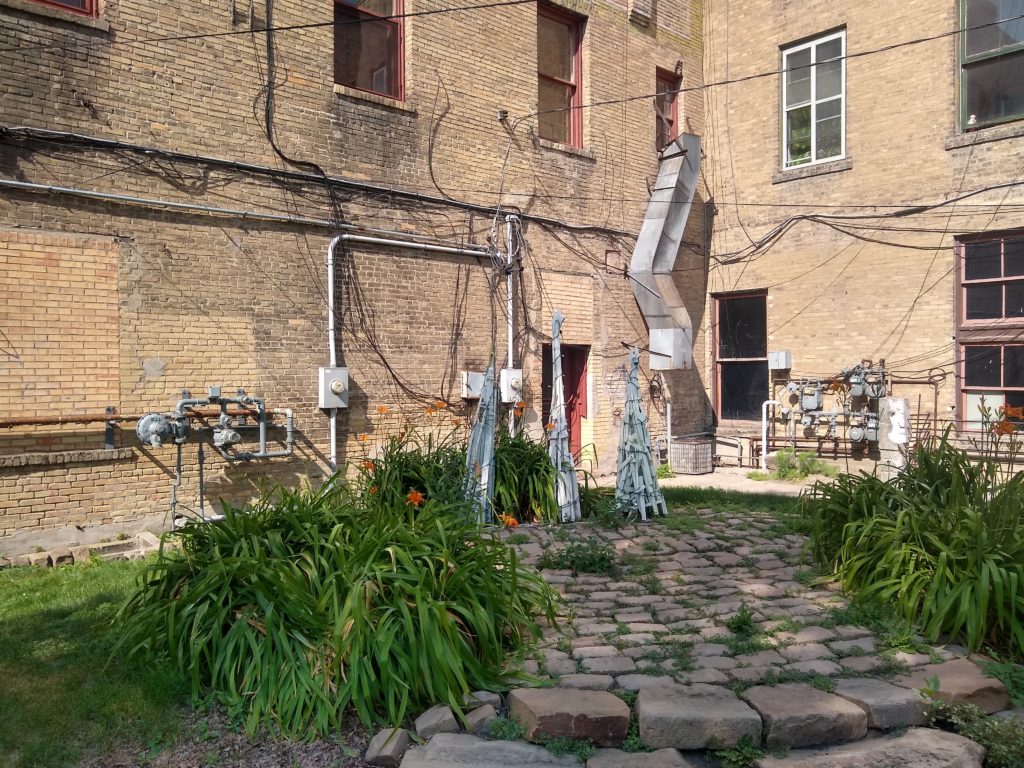 We made breakfast at a site overlooking Lake Superior. While I fought off black flies, Alexander went down for an early morning dip in the cold waters of the biggest of the Great Lakes. After breakfast, we all took a quick, cold swim, before heading up to Ontonagon, were we stopped at another lakeside spot for lunch. After lunch we explored some long logging roads before making our way up to Houghton and Hancock, and checked into our campsite at the Hancock Recreation Area. The campground is right next to the beach on Portage Lake, which has big dock, good for jumping in. We had read good things about the campground facilities again, but this time the reality was underwhelming. In fact, I did not shower there any of the three nights we stayed. Even though I went mountain biking each day, I found the cold lakes to be much preferable to the showers.
The campground was full, though our neighbors were friendly. They also smoked all the time, so we had to keep windows one side of the van closed. Across the way, were some interesting folks with loud dogs that they left unattended while the went out. Dad had his foot in a medical boot, but would take it off, and walk around with a very painful looking limp. The kids were friendly, but dad would yell for them anytime he couldn't see them. One day we came back from exploring the northern Keweenaw Peninsula to find they were gone, but the police were there. Shelby thinks they were on the lam. Fortunately, the next folks were a lot more quiet.
Over each of the next few days, we headed north to places like Calumet, Eagle River, Eagle Harbor, and Copper Harbor. Even though I'd spent the majority of the first 30-something years of my life in Michigan, I had never been north of Houghton. It's almost 600 miles from metro Detroit to Copper Harbor. The 10 hours, without weekend traffic, was enough to prevent me from ever making the drive. It was only 75 miles further to Killington, VT. I did make that drive once. It's also roughly half way to Denver, Colorado, and I always figured that was at least twice as good. Maybe it's not twice as good, or even any better at all, but that was my thinking in my younger years. So, this was my first time, and I'm glad I made it. It's gorgeous and worth a visit. It's not Colorado, but it's pretty nice all the same.
Each morning we would pass through Calumet as we headed north, and stop for coffee at Keweenaw Coffee Works, a surprisingly good coffee shop in such a small town. Calument was a bit of a pleasant surprise for us. I'd seen it on the map, but it's in the middle of the Keweenaw Peninsula, whereas most people would prefer to be on Lake Superior. It is an old mining town, as is common in the Upper Peninsula. It's a National Historic Park, and a pretty cool little town. When we arrived, it appeared that one whole block had recently burned, but otherwise, it was a picturesque downtown. One other fun stop was at the Keweenaw Storytelling Center. We just happened to poke our heads inside, and were intrigued enough to ask about the place. They have a performance area, host an old-time radio show, and had an exhibit called, "Around the World in 80 Hats". It was really pretty fun. It was just the right mix of folksy, entertaining, and informative.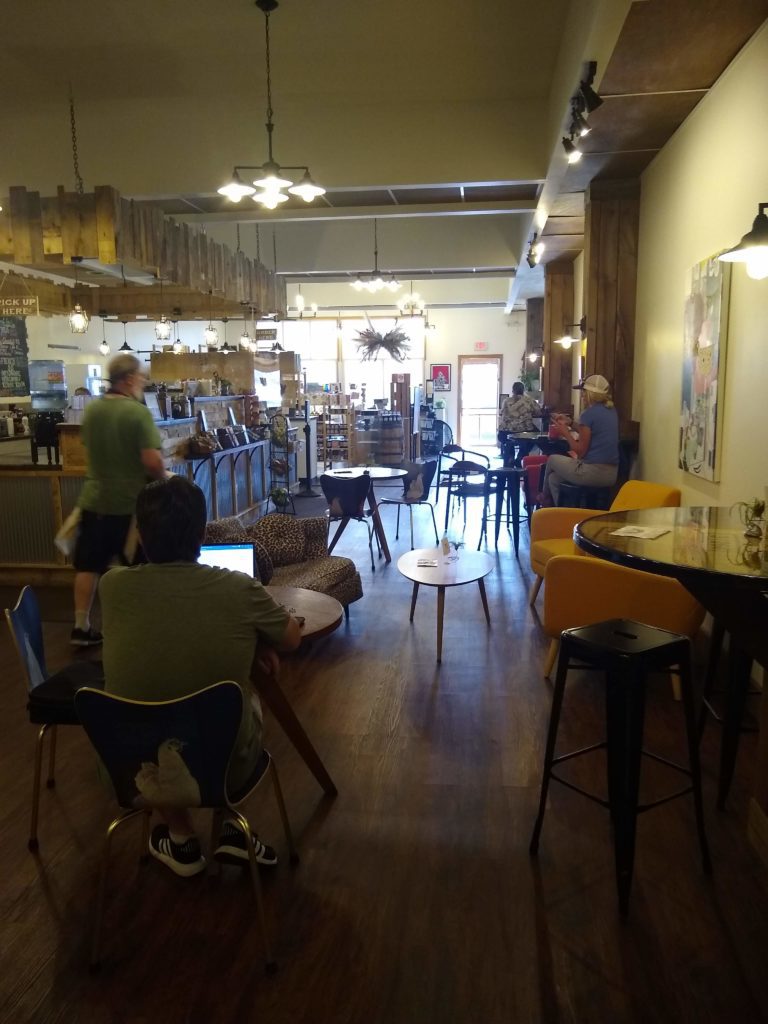 Over the summer, we bought a new bike rack, and one of our goals was to bring our bikes back to Michigan, and do a little mountain biking while we were there. While we didn't ride as much as hoped, I did one mountain bike ride on the trails in Hancock, and two rides on the trails in Copper Harbor.
Hancock has the Maasto Hiihto and Churning Rapids trails. Maasto Hiihto means cross-country ski, in Finnish. So, as you may guess, they are first and foremost, cross-country ski trails, but they maintain them for year round use. I found the trails to be a lot of fun on my mountain bike, and they looked like they'd be fun to run and hike as well. The trails I rode were narrow, rocky, and sometimes wet. As is normal for Michigan in late July, it was humid as heck. It was great to be able to head straight to Portage Lake for a quick cool-down.
Copper Harbor has a series of trails, rated as Silver Level Ride Center by IMBA. I'm not super familiar with the ratings of IMBA, but silver sounds pretty good. Not as good as gold, of course, but better than bronze. On our way up to Copper Harbor, we happened to be driving Brockway Mountain Drive, when we saw a trail sign. We looked up the trails, and saw we were at the top of The Flow. The Flow is approximately 3 miles, with 700+ feet of descent. Those from the West may be less than impressed, but for Michigan, that's huge. We decided to all ride down, and I'd ride back up, and get the van. Like the trails in Hancock, the trails were fairly rocky. A rider from out of state may find rocky trails to be normal, but riders from the lower peninsula, on the other hand, are used to sand.
After the ride, we headed to Horseshoe Bay Beach. The beach is not sandy, but rocky. The beach is mostly golf ball sized rocks, but there are also sizeable, 1 billion year old, lava flows. It's a bumpy dusty drive, with a very small parking area, but was a fun place to cool off before heading back to our campsite in Hancock.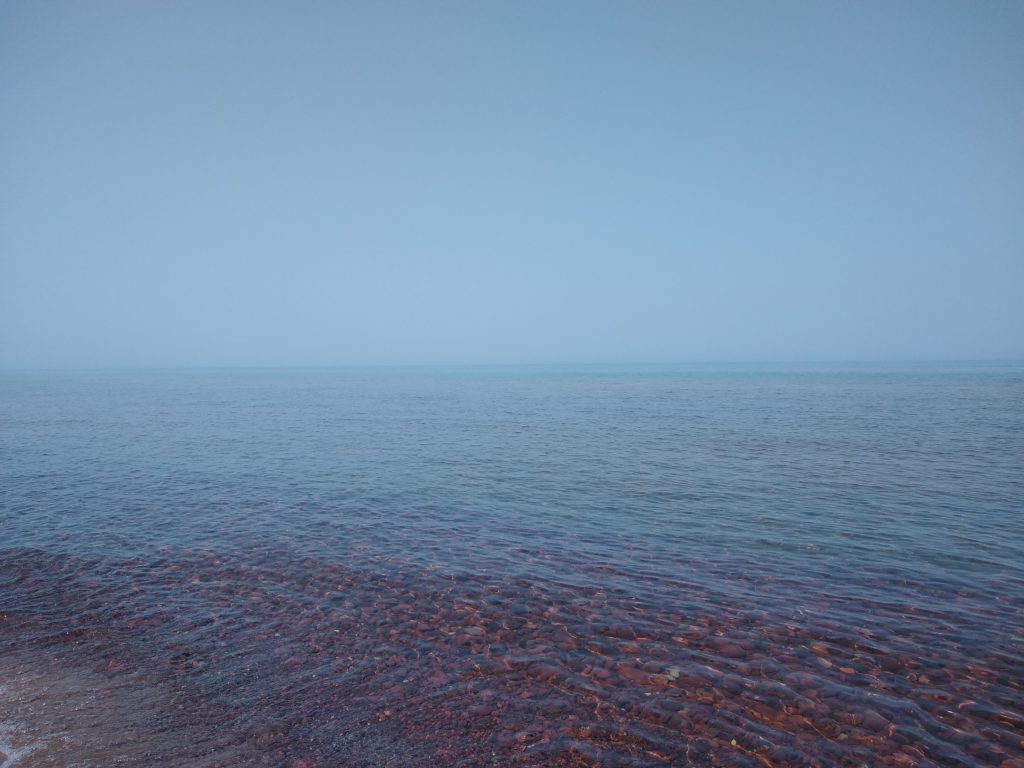 The next day Shelby and Alexander went to Fort Wilkins, while I dealt with a client emergency. The stress of working on something so timely, while in an area with almost no internet or cell service was definitely one of the realities of vanlife. Our Googe Fi service was non-existent, and our Verizon hotspot, was almost non-existent. The unsecured, open connection of the visitor center was my only option. Although the center was closed, I was still able to use the internet connection. Unfortunately, as the worker in the Post Office told me, there is one provider of internet in town, and it goes down frequently. It went done while I was in the midst of an upload. The worker also told me it usually came back within an hour or two. I decided to go to the bike shop at the Keweenaw Adventure Company for a bit, and get some ride recommendations. The internet did come back on, and my 15 minute fix was finally finished several hours after I started.
After picking up Shelby and Alexander at the Fort, we headed to Agate Beach at Hunter's Point Park. They went for a swim, and I did another ride on the Copper Harbor trails. This time, on the recommendation from the shop, I rode Garden Brook, Woopidy Woo, and Rapture Ridge, as an out and back from town. While, the Adventure Company offers a shuttle, the climb is only about a 700′ vertical climb, over a few miles. Other than rocks, it's pretty mellow, especially if you're used to riding in the mountains. For me, the climb is part of the fun. Like uphill skiers, I like the up as much as the down. Overall, I found the ride to be a lot of fun. It was a lot less busy than the trails have been in Montana, though, from what I understand, the mountain bikers have been a bit overwhelming for the small town of Copper Harbor. It's a really small town, and doesn't take too many visitors to be too many I suppose.
That night we had a massive downpour, and spent the evening in the humid van, with all of our wet towels, swim trunks, and cycling clothing; another vanlife reality. Fortunately, there were no fires for a change. Also, we watched our neighbor set up her tent in the pouring rain. The humid van wasn't all too bad in comparison.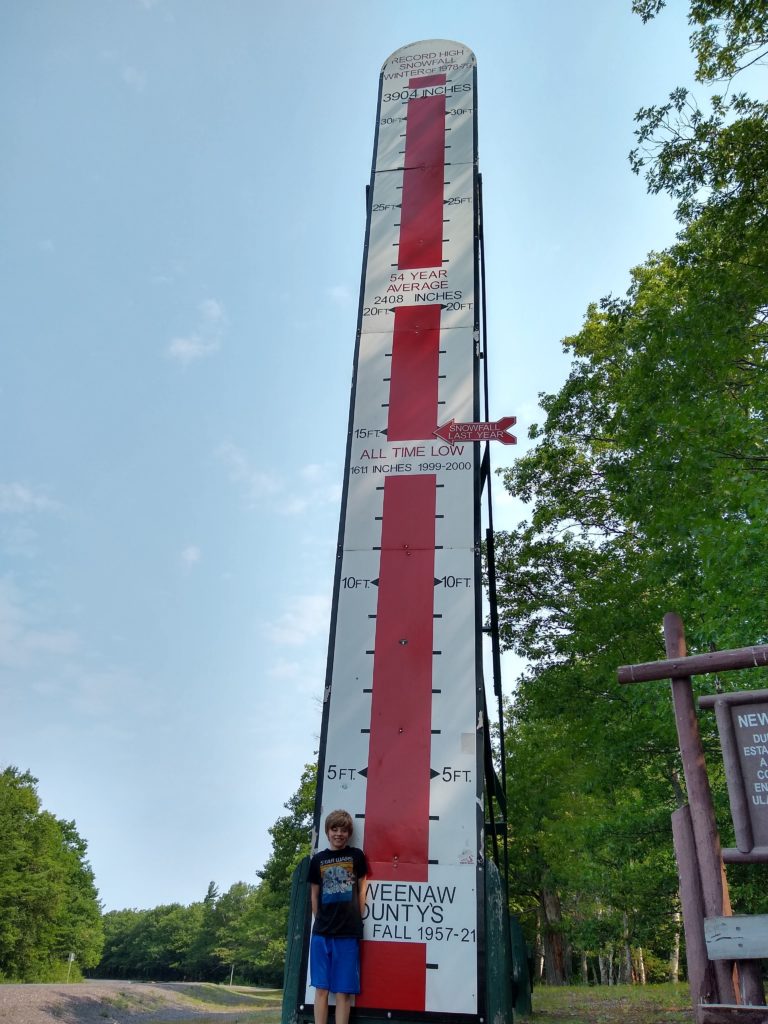 The next day, we headed south across the Mackinaw Bridge, on our way to Southeastern Michigan, to visit with family. We did have a couple more stops, including that afternoon on Old Mission Peninsula with friends and neighbors from Whitefish, Montana, who also happened to be road tripping to Michigan at the same time. We spent the afternoon in Lake Michigan, followed by some dinner on the grill, and camping for the night in the driveway.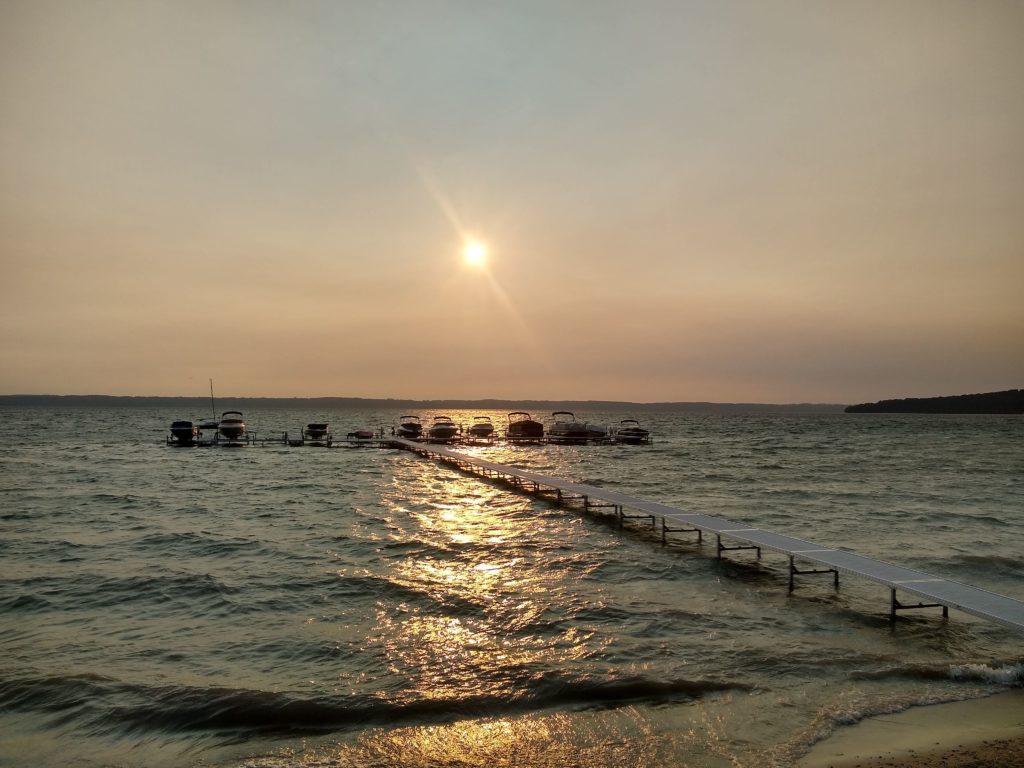 The following day was spent driving, with lunch in Kalamazoo, with another friend, and former neighbor from Denver, who also happened to be in Michigan at the same time. We realized it had been over two years, since we'd seen each other. It was a short, but sweet, lunch at Bell's Eccentric Cafe. Finally, we made our way to metro Detroit for a week, or so, of family time.
Distance: 2,573 miles
Time: 4.5 days
Vanlife reality: bad air quality and smoking campers