This morning we got an oil change at J&M Tire. They were great. Got us in while we waited and were really reasonable. After Denver prices, I might even call it cheap. Afterwards we headed over to Moav Coffee for more work time and coffee. I also got some avocado toast, which was pretty good.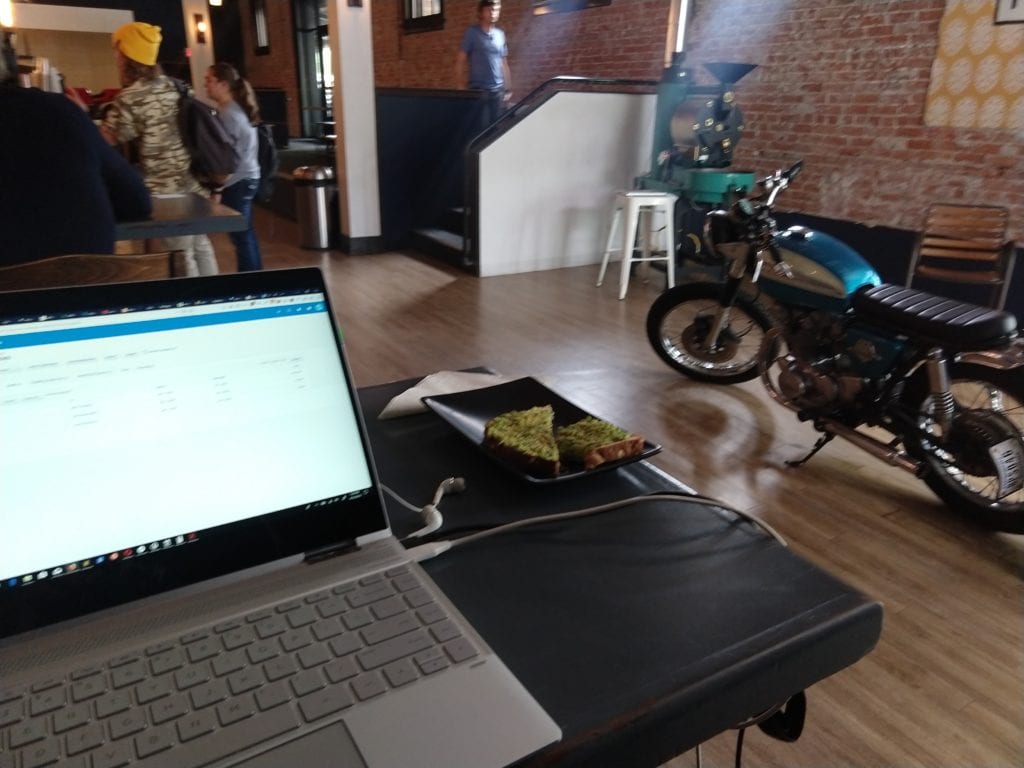 Next we drove over to Bozeman, another town we wanted to check out. One really fun thing about driving across Montana is the wind. It's relentless, and eventually one arm fatigues from holding the wheel at the same angle for a couple straight hours. There are permanent signs west of Billings, on I-90, warning drivers about it being a high wind area. They aren't kidding.
At this point we (me) were also really starting to worry about an issue with our bike rack. Back in Denver, we had U-Haul install a 2″ receiver hitch, that we then added a Kuat pivot (we have V1, not V2), and then a Thule Helium 3 bike rack. The combination puts the bikes out quite a ways from the van. It also allows the rear doors to be partially opened without doing anything, and by using the pivot, we can swing the bikes to the side and fully open the rear doors.
The problem we were having was that when hitting big dips and bumps, the entire bike rack and bikes would pitch up towards the rear windows, swing back down, and then bounce up and down. The total amount of movement was measurable in feet. The hitch from U-Haul, it turns out, is mounted by sandwiching a steel plate between the rear bumper and the frame of the van. So, essentially, you have the four horizontal bolts that are designed to hold the bumper on now also supporting the rear rack and bikes in a vertical fashion.
I was afraid of the bolts breaking, and the bumper and rack coming off the van, the bolts bending and the bumper, rack and bikes sitting at an angle, the rear window being smashed by the bikes, or the frame bending (there was lot of flex). The hitch had a lifetime warranty, so I ordered a new, much more burly Curt 2″ hitch from the Autozone in Bozeman.
This meant staying in Bozeman for a few days, as we had to wait for the hitch. So, with a recommendation from the local REI staff, we made our way to camp near the Hyalite Resevoir. We ended up the Langohr Campground, which is along Hyalite Creek. Apparently there had been a grizzly and two cubs in the area, so we had to be extra clean and safe with food and anything with scents, such as tooth paste. We didn't see any bears, and enjoyed the stay enough to pay for another night.
Distance: 163 miles
Time: 3.5 hours
Vanlifereality: Constantly stressing about finding a place to camp. Realizing your trailer hitch is piece of garbage and you're going to have to replace it yourself in a parking lot somewhere.