Today we were scheduled to meet up with good friends from Denver. We had reserved a campsite at Emerald Forest Campground, while our friends, the Baileys, had reserved a cabin. Knowing we had a place to stay ahead of time meant we could take our time today. We headed out from Grants Pass, and headed southwest to Crescent City, California, where we headed due south towards Orick. South of Klamath we got off the highway, and took the Newton B. Drury Scenic Parkway to the visitor center. There we picked up the Junior Ranger book, and got some directions and guidance on driving out to Fern Canyon to meet our friends for a hike before heading to the campground.
We were warned the drive would be slow going, rough, and we'd have to cross a creek. This was all true, though we did make it all the way in the van. It's a very rough, dusty, twisty drive over the coastal hills in the woods. After awhile, you end up at the coast, where the road is less twisty, but still very rough and dusty. Shortly after passing the Gold Bluff Beach Campground, we crossed what I believe was Squashan Creek. But, there was one more crossing as well, that may also have be the creek, or something else. Who knows. One was deeper and rockier than the other. A low clearance vehicle may have had trouble. We had our wheels spin a few times, and a rock hit something underneath (causing no damage fortunately) the van, even with high clearance and aggressive tires.
We arrived at the trailhead parking with no cell service, and no idea if the Baileys were behind us, or already here. It turned out they were already at the trail, and had written a message on the dust on the rear window of their rental car. We didn't know what vehicle they drove, and so I completely ignored the message on the window, even though I saw it. We decided to wait out on the beach, and play in the waves. Our friends eventually found us on the beach, and the boys all spent the next hour, or so playing the water. It was extra fun, as the Bailey boys did not know we were all out on the beach. In fact, they didn't know they were going to see us on their trip to the West Coast.
We never did do the hike, but I hear it's nice. Next time through, we'll have to stop by again, and see it for ourselves.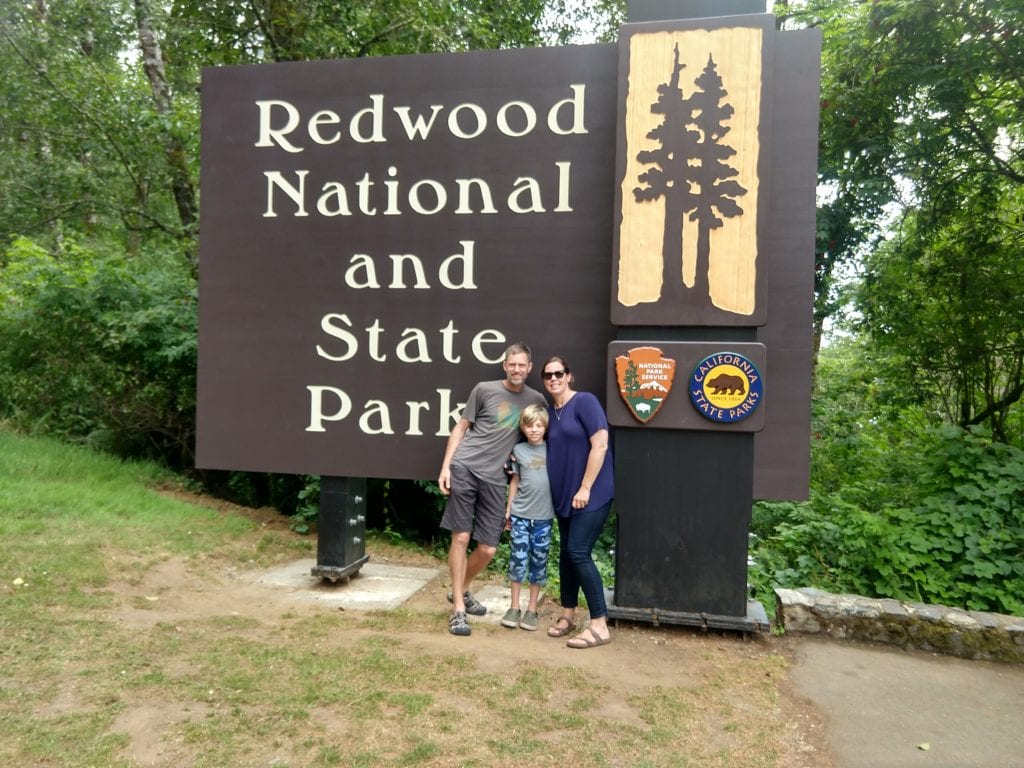 After making the drive back to the highway, we drove into Trinidad for some dinner. Everything was busy, but we ended up at the Lighthouse Grill. They told us they were out of french fries when we ordered our burgers. This was a huge disappointment. Then it was hard to find anywhere to sit. This was all due to tourists like us, I suppose. It turned out they weren't out of fries, and we were able to get an order. Then they said they had more fries, so we said we'd take more. In the end they brought so much we couldn't eat them all. We all drove to the Emerald Forest Campground very full.
The campground is forested with really big trees. It appeared full, and by the time we checked in it was dark and smoky, which made parking and setting up a bit challenging. We were next to a ravine, and the Bailey's cabin was on the other side, so of course the boys played in the ravine, found banana slugs, and generally had a great time.
Distance: 165 miles
Time: All day
Vanlife reality: There were no mosquitoes, and we had a place to stay ahead of time. The one downside was finding dinner. The Lighthouse was the second place we tried, and they were super busy and ran out of food (or not?)